Discover more from The Sentence is a Lonely Place
Now on a semi-regular basis!
On the creation of space(s)
A few notes on Lovecraft Country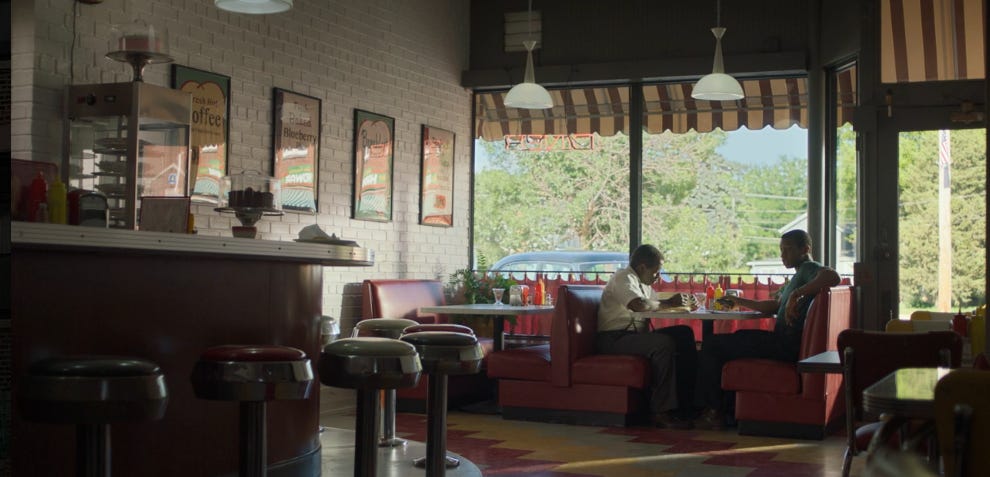 Not sure if it's an intended effect, or just the setting but this looks like an Edward Hopper painting. Hopper painted scenes of modern American life — a subject of
Lovecraft Country
's 'Sundown' episode, particularly how the American Dream was for Black Americans during the 50's.
"Uncle George, remind me why the White House is white..."
Tic asks his uncle George, who just wants to have some hot soup after a long drive. George has suggested this "friendly" diner that's been listed in the Safe Negro Travel Guide that he publishes (fictional, but based on the actual The Safe Negro Motorist Green Book). They walk into the diner; it's curiously meticulous and brand new. Tic runs his eyes all over the place: the immaculate white walls, the shiny metal chairs… He asks his uncle the question. "War of 1812… British soldiers put executive branch to torch and later, when the slaves rebuilt it, they painted it white to cover the burn marks, he replies. Tic dislodges a floor tile — what lies beneath is blackened, burned. They jump out of their seats and into their car. Not far behind them are white men armed with guns, out to murder them just for being colored.
I keep coming back to Tic's question long after watching the Lovecraft Country pilot (twice) and the excellent Lovecraft Country Radio podcast that thoroughly dissects the show's themes and references. The abovementioned scene is a simple set up that carries a heavy, historical baggage. Here were weary Black Americans, looking for a place to eat, but the sight of their skin is enough to deny them that right, at least for these racist townies: the act of 'sitting in the diner' is an affront to their whiteness. It might be worthy to mention that B.B. King's 'You Upset Me, Baby' is playing on the car radio as they were entering the sundown town.

Uncle George's reply makes it a point to mention that slaves rebuilt the Capitol, the country's seat of power. But in the time of segregation and Jim Crow laws, no such ancestral act would deem Black Americans as equals to the ruling white class. "We're citizens! You're a veteran for god's sake! Our money is just good as everyone else's," George tells Tic when he sensed that they were clearly not wanted customers.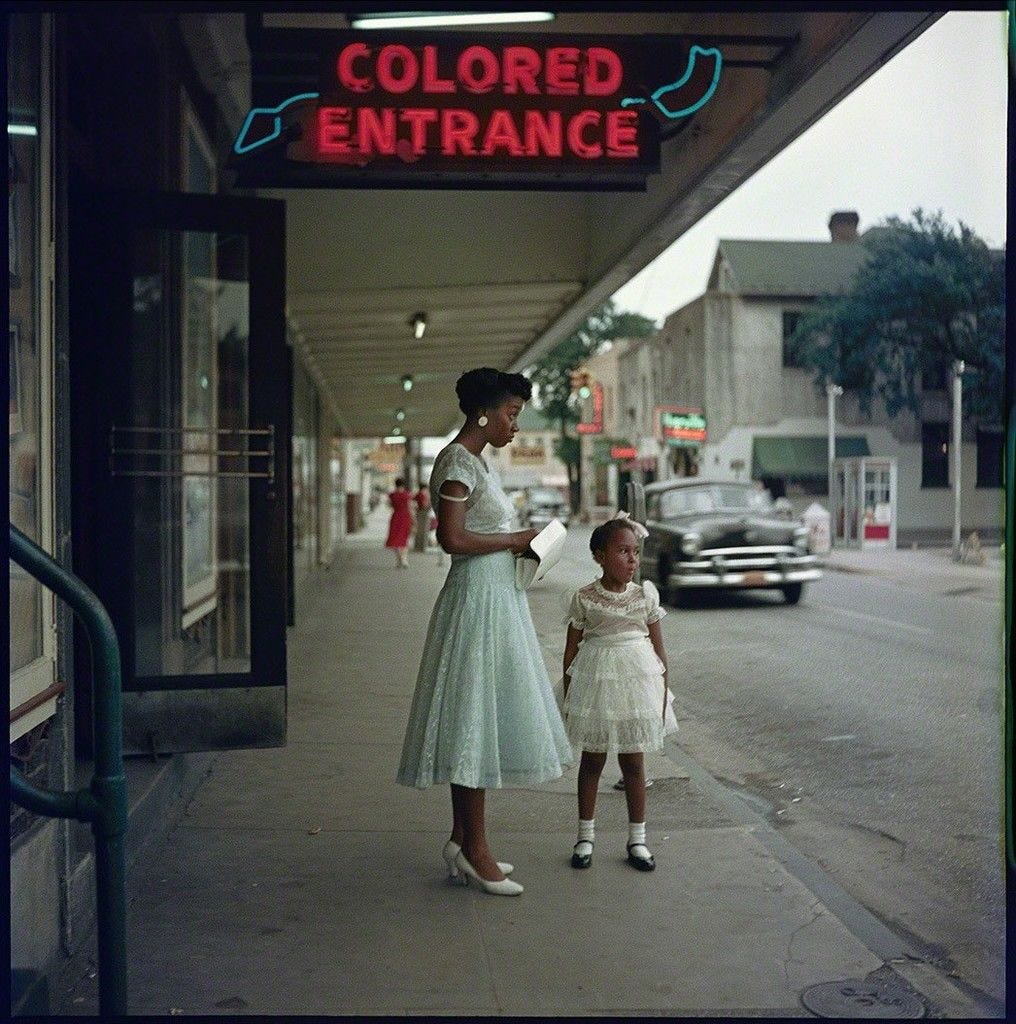 Gordon Park Department Store, Mobile, Alabama, 1956 Adamson Gallery

(via

Artsy

). The photo appears on the first episode of

Lovecraft Country.
In Lovecraft Country Radio, writer Ashley C. Ford and show writer Shannon Houston talk a bit about joy in the Black community, which was so pronounced in the first episode, as well as in this Gordon Park photograph. As Houston pointed out, though segregation existed during this era, there were safe spaces (which the diner was clearly not) for Black people to celebrate and form communities. The defiance of this Gordon Park photograph is powerful: the idea that you can still look your best even though you're being treated like a lowly citizen, relegated to side doors and back ends of public transportation. As much as there were scenes of inequality, discrimination, and soul-crushing racism here, the pilot episode made it a point to show the basis of joy in the lives of Tic, George and Letitia and their primary motivations for embarking on the fateful journey to Lovecraft county.
***
Grateful for the Lovecraft Country podcast for pointing listeners to cultural touchpoints relevant to the show: a reading list, as the hosts said in the introductory episode. See the list here. I've also recommended Gou Tanabe's two-volume manga adaptation of At the Mountains of Madness here if you want to dip into Lovecraftian waters but do not have the stamina for his extra-purple prose. It was only in 2019 that the perfect Lovecraft film adaptation existed: Richard Stanley's disturbing Colour Out of Space, starring Nicolas Cage, who seems perfectly suited for the 'eldritch horror'-induced insanity required for his role. An argument can be made for Herbert West: Re-Animator but it is more HPL's satire of himself than Cthulhu Mythos. Other "Lovecraftian" films exist, mining on the racist horror writer's ideas of nihilism and cosmic horror: Alien, Annihilation, The Thing, The Mist, The Void, and The Cabin in the Woods. Junji Ito's most HPL tale is Uzumaki, which got a middling film adaptation but is getting adapted into an animated series on Adult Swim soon. Watch the trailer here. There are several video game adaptations of HPL's stories but the most beautiful and complex HPL video game so far is Bloodborne. Fear the old blood.